2023 Open Enrollment for Marketplace and HIP plan choice starts soon!  Get help from certified navigators at United Health Services. Download the flyer below.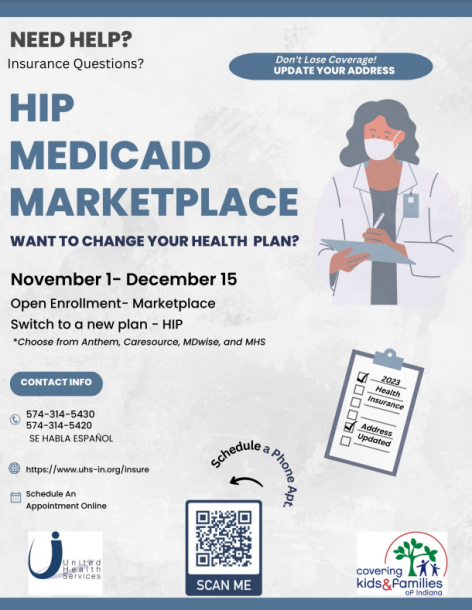 What was United Health Services up to in 2019?
Your support of United Health Services in 2019 allowed:
The Breast Health Programs provided 250 screening mammograms and 118 diagnostic services for women not eligible for BCCP, due to their age or being over income. Breast Cancer support services provided assistance for 149 women in treatment for breast cancer, with gas/grocery cards and/or utility assistance. 1700 women received screenings and diagnostic tests through the Breast & Cervical Cancer Program, a state funded program run by UHS in the northern region of Indiana. 
Community Services with All Deaf works alongside the d/Deaf community providing communication access and advocating for individual needs. In 2019, CSAD provided nearly 8,500 hours of interpreting in Northern Indiana and Southwest Michigan along with over 40 hours of case management.
Covering Kids and Families of United Health Services has done health coverage applications for 1,789 for state or federal insurance in St. Joseph, Elkhart and Marshall Counties and our navigators assisted another 5,358 people with questions on applications, insurance and health coverage. 
Diabetes Resource Center provided or facilitated over $320,000 of free medication to clients and provided case management services to 104 people in St. Joseph County struggling with access to care and diabetes education.  
Suicide Prevention Center reached over 5,000 area high school and middle school students through their youth suicide prevention education program. As well as training over 150 community members in Question, Persuade, Refer tactics to prevent suicide.